Friends,
Our Florida teachers and education staff professionals are proud to support Jose Javier Rodriguez in his campaign for the state Senate. He has been a fierce champion of our public school system and has never backed down from any fight in Tallahassee that puts our children first.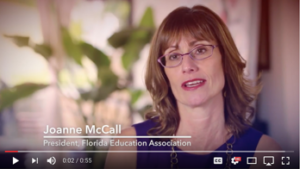 We are proud to share a short message below on why he will make a difference in the state Senate.
We need a leader like Jose Javier Rodriguez in the state Senate fighting for a brighter future for our kids.
Let's bring home a victory on November 8th.
In Unity,
Joanne McCall, President
Florida Education Association
NEA, AFT, AFL-CIO